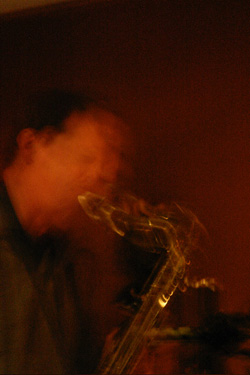 Thanks for visiting. We've got some catching up to do for sure. February was so busy I never made it here to update any info. FYI, the calendar is always up to date and it's the first place to check if you want to come out and hear some music I'm involved in. I welcome any inquiries…use the form on the site under the contact me link up above (gotta fend off the spam idiots)…I'll get back to you promptly.
This weekend the Explorer's Club is making a rare Portmouth appearance at the West End Studio Theater. This is a perfect setting for creative music…not too big, not too small, comfortable seating, no obstructed views and great acoustics. Here's a link to more info: West End Theater Jazz Weekend
Don't miss Eric Hofbauer's CNM Pro tour on saturday at the WEST! The first set will feature the guitar duo of Eric Hofbauer and Garrison Fewell and the second set will feature Eric's "Infrared Band". Should be an incredible night.
Friday, March 13th at Blue in Portland, ME. Titus Abbott presents the music of Curtis Clark with Myself, Mark Tipton on trumpet, Gary Gemitti on drums and Jim Lyden on bass. This is a great opportunity to hear Curtis' music presented with a full group and with him at the keyboards.