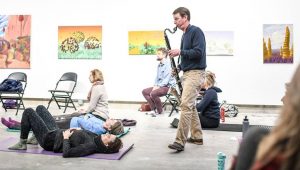 Hi. I'm Matt Langley from Eliot, Maine and I'm a Musician, a Teacher, a Graphic Designer/Web Geek and a student of all that and more. I've been playing the Saxophone since I was a teenager and this website is here to let you know where I'm playing and Teaching. Thank you very much for your interest. I hope you find this information useful and I hope we meet in person! If you'd like to get in touch with me click any of the social links above.
I post upcoming gig highlights on this page. If you'd like to look into other dates check the gigs link at the top of the site. That offers a complete listing on Matt Langley's upcoming gigs.
I teach saxophone, clarinet and flute as well as beginners on trumpet, trombone and piano. As a member of the Shaker Road School music department in Concord, NH, I have been honing my skills as a youth band instrument and piano instructor since 2010. I enjoy working with beginners as much as experienced players and I have had success with both. As a member of the Portsmouth (NH) Music and Arts Center Faculty, I work with youth jazz ensembles, Adult beginner and intermediate jazz ensembles, improvisation classes and private study on saxophone and improvisation. I am also a member of the faculty of the Concord (NH) Community Music School where I teach saxophone privately as well as coaching ensembles. You'll find some resources here on my website for saxophone students of all ages. Get in touch with any questions or suggestions you have for the site. I'd love your input.
I'm currently performing with a number of groups in the area. In Ears 'n Eyes is dedicated to exploring the connection between aural and visual art. Visual Jazz Artist Roger Goldenberg and I, along with a host of seacoast musicians including Taylor O'Donnell, Chris Klaxton, Scott Kiefner, Jonny Peiffer and others visit schools, concert halls, and clubs to learn about the language and concepts visual art and music share. Jonny Peiffer's Sojoy is a little big band with five horns, bass, and drums and features his compositions and arrangements as played by some of the finest musicians in the area. Watch my calendar for upcoming dates. Mike Effenberger's weirdturnpro is a sextet performing Mike's compositions. We have one cd out and Mike is just about to release our second recording as of April 2018. Ourbigband is a full-size big band run by trumpeter Chris Klaxton. The group is currently focusing on bringing exciting guest artists to the Seacoast area for performances, clinics, and private lessons. In October of 2015, we brought trombonist, composer, arranger & guitarist Curtis Hasselbring to the area. October of 2016 featured a visit from Dave Douglas! In October '17 Frank Carlberg joined us for a mini tour performing music from his recent release Monk Dreams Hallucinations and Nightmares. We're looking forward to a visit from Ben Allison later this month. Check back often for details about shows with these and other groups in the area or sign up for my mailing list above (no SPAM guaranteed!)