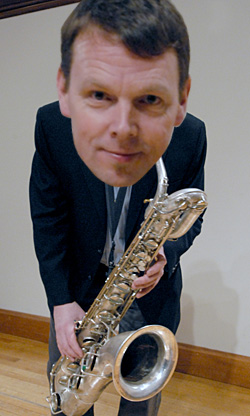 Most of the ghouls are gone 'til next year and the frost is getting more frequent but that's no reason to hybernate! There's plenty of great music coming up. Every other Friday this month I'll be at the Hilton Garden Inn, Manchester NH with pianist Rob Dumais from 6-9 PM. Join us for a few tunes, grab some dinner, or a drink and if you don't feel like driving home, spend the night!
Friday the 9th Charlie Kohlhase's Explorer's Club with be down at Brookline Tai Chi. We're sharing the bill with Industrious Noise so it should be a rocking night of creative music.
Monday the 12th David Tonkin's group will return to the Barley House in Concord, NH for our monthly hang. We've been working on some new tunes so come on in and tell us what you think! Maybe David will buy you a beer…and maybe Donnie will drink it on you…you never know.
Speaking of great listening rooms, there's one in Portmouth that's been committed to promoting live music since the 70's. I always love playing at the Press Room and the downstairs bar is my favorite. Join Tim O'Dell, Luther Gray, Jim Lyden and myself on monday the 26th for another night of great music. We'll have some new stuff and we'll be freshly stuffed. We'll undoubtedly still have some room for a little beer and now that New Hampshire is smoke free, you won't have to head home smelling like an ash tray. What a treat!
I'd be happy to serve you some spammy gig ticklers on an irregular basis. Click the contact me link above and send me your email if you dare. I won't sell the email addresses to walmart or inadvertently reveal your email address in a mass political rant CC'd to anyone who's ever emailed me since Al Gore invented the interwebs, promise.