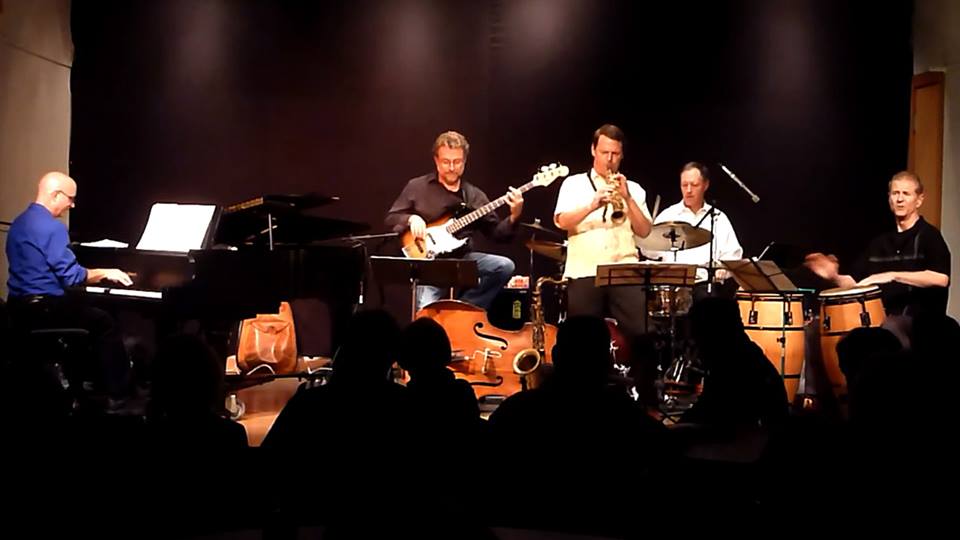 Had a blast touring the Pacific Northwest with Ted Brancato. What beautiful country and what a great group of musicians. Thanks to Ted and Mary Sue Brancato for kicking butt and booking all those gigs. Ed Bowlby for putting up with me hanging around the house. You too Maribeth and CJ for the same. And many thanks to Chuck Deardorf, Mark Ivester, Tom Bergersen, Ben Smith and Gary Hobbs for playing so great and bringing the music to life. Rumor has it that Ted will be doing some gigs down in NYC and the surrounding area in the spring to promote The Next Step. Can't Wait!
Meanwhile, back in this neck of the woods, school has kicked in and I've got some catching up to do! Some great jazz ensembles at PMAC this semester. I've heard the kids and they're mighty. Thanks to Charlie Kohlhase and Chris Klaxton for taking care of the adult ensembles while I was away. Can't wait to hear them.
Getting out of the area for a little while made me appreciate another beautiful part of the country but it also made me think just how special this area is. We've got an abundance of incredibly talented , creative people AND a VERY supportive community. I'm very lucky to call this area home and I thank each and every one of you who challenge yourselves to create such a special place on an ongoing basis. THANKS!! Here's some music coming up…
Wednesday, October 2nd, 7PM – Hip Pocket Orchestra – West End Johnnies, Boston – Boston's premier function band in a rare club appearance. Come on in and get down to the HPO featuring Adrian Sicam, Andrea Capozolli, Vanessa Salvucci and David Giles on vocals, Eric Byers on Guitar and Vocals, Mark Shilansky on keys, Kevin Cobb on Bass, Victor  on Drums, Joel Yennoir on Trombone and Andrea on Trumpet when she's not out front tearing down the joint on vocals.
Friday, October 4th, 10PM-ish – Saxophone Support Group – AS220, Providence RI – Part of the "Is This Jazz" series. The SUpport Group features some of the finest improvisors/ composers/ saxophonists in the NorthEast; Josh Sinton, Dan Blake, Charlie Kohlhase, Jared Sims, Sean Berry and Matt Langley. Tunes from Lacy, Hemphill and more as well as some originals will be featured. Also on the bill; the Michael Sink Quintet! Gonna be a great night of music.
Monday, October 7th, 6-10PM – The David Tonkin Group – The Barley House, Concord, NH – A first-Monday-of-the-month tradition in Concord, NH! David Tonkin's guitar will surprise and confound all at the same time. Could it be jazz…rock…blues…? You decide. Don Williams on Bass, Tim Gilmore back on drum (YEAHHHH!) and myself on saxes.
Sunday, October 13th, 10AM – Jazz Service at 2CCuCC, Kittery, ME – The Second Sunday Jazz Services are back at 2CCuCC. Pastor Brad Hirst always gets you thinking about the scriptures in a unique and jazzy way. Join Mike Effenberger, Jim Rudolf, Myself, the 2CCuCC choir and congregation for a spiritual start to your Sunday the 13th.
Wednesday, October 16th, 9PM – MMF – The Press Room, Portsmouth, NH – MMF is the brainchild of drummer Frank Laurino. We play anything from Zeppelin to Sesame Street in a open and improvisational sort of way. Mike Effenberger often shows up with his B3 on this gig but he could pretty much bring a slide whistle and sound incredibly musical. Another dude like that happens be in this band too; Steve Roy. This guy is musical when he talks, walks, yelps and howls. This is going to be VERY fun!
Saturday, October 19th, 8PM – Desert Island Live – The Dance Hall, Kittery ME – Jonny Peiffer's mind works in great ways! Desert Island Live comes out of the concept, "you're stuck on a desert island. if you can have any ………….. with you, what would you choose?" In this case, it's "which Joni Mitchell albums would you want to have with you?"…."Blue" & "Court & Spark"  is the answer for this show and I'm SURE this will be a BEAUTIFUL desert island tonight with Taylor O'Donnell singing and playing keys, Jonny Peiffer on Drums, Keys and Vocals, CJ Lewis on Guitar and Vocals, Nate Therrien on Bass, Eric von Oyen on drums and myself on saxes. GET TICKETS NOW!
That's all for now. Thanks for visiting and for supporting the ahhhhts!