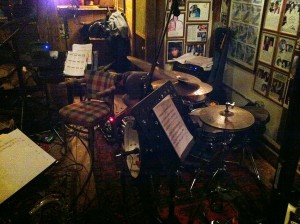 I Don't know about you but I'm thinking this little cold snap is a corker! We're ripping through the wood pile like nobody's business! But you didn't come here to listen to me whine, did you? Here's the lowdown on a couple gigs on the horizon.
Sunday, January 16 – JOSA With Greg Abate – Eastman, Grantham, NH – Bill Wightman brings altoist Greg Abate to JOSA this Sunday 4-7PM. Greg is a great player and we had a blast on this gig last year so blow off the Patriots game and make the pilgrimage to Grantham for some swinging music, great food and wonderful people.
Monday, January 17 – FTET at the Press Room, Portsmouth, NH 8PM – The Martin Luther King Day version of the FTET will feature a special half hour set from the Leftist Marching Band at 7PM followed by the FTET at 8PM. I'm hoping to coax a few leftists to hang around and Le -FTET – ist up the joint. Personally, I've been thinking about the correlations of Dr. King's message to the uprising of the people of Tunisia. I'll try to keep my horn in my mouth and let the political diatribe pour forth in the form of urgent music…but I may yammer on a bit too. This band features the greatest rhythm section of every band in the seacoast; Mike Effenberger on the Hammond B3 and his bro-of-the-beard Jim Rudolph on the tubs. Another seacoast stalwart, Nick Mainella, will join me on saxophones and clarinet for what will definitely be a great night of tunage. Please make the hang.
Friday, January 21, Jazz In January, Concord Community Music School 7 & 9 PM – The annual Jazz Faculty Recital at CCMS is always a fun event. Featuring catering by Hermano's In Concord, this is a great place to hear a show and we have a good one in store for you this year. Join Tom Robinson on Piano, Tim Gilmore on Drums, John Faggiano on Drums, Don Williams on Bass, David Tonkin on Guitar, Richard Gardzina on Saxes and myself for an entertaining night of music. Get your tickets early, this show sells out every year!
Monday, January 24th, Scott Solsky Quartet, The Barley House, Concord, NH 6-9PM – The Barley House has become the jazz center of Concord – in addition to Hermano's, of course – with their steady Monday night jazz series. Join Scott Solsky on Guitar, Jared Steer on Drums, Jesse Stern on Bass and myself for a night of great music. The Barley House features wine and food specials on monday to make it an irresistable way to chill after your work day!
Some upcoming highlights…Friday, February 4th at Outpost 286 in Cambridge with Luther Gray, Charlie Kohlhase, Pandelis Karayorgis, Jacob William on Bass and possibly a few more. Friday February 11th with Jonny Peiffer and Nate Therrien at the Kittery Art Association. More on these soon!