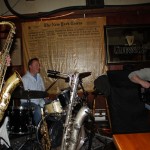 I'm loving the weather. Got a great mow in yesterday on the Zool ( checkout the zool page on Facebook and forward it to your friends if you think a pedal powered lawn mower is a good idea!) and gave myself a good blister trying to pull up all the dandelions on my lawn. It'll never happen but I can make a dent…can't I!!!?? I've been practicing for a couple gigs I have coming up this week. Here's the info. Come on out and give us a hollah!
Monday, May 3rd – Color at the Press Room 8PM. We just had a great time playing a concert at Governor's Academy last week ( Thanks Kristen Miller!) and now we're back at our favorite club for another rockin night. Join us!
Sunday, May 9th – Jared Sims & Matt Langley with the House Band at the Press Room 6PM. I ran into Jared at Alex Alvear's Birthday Party a couple weeks ago and he mentioned we should get a gig at the Press Room. All it took was a call to Ryan Parker and, lo and behold, we're going to be playing a night of Lee Konitz and Warne Marshe's music. I'm sheddin like a banshee. Jared's a great player and this will be a really fun night. Get on down to the Press Room and bring mom along.
Monday, May 10th – David Tonkin Quartet at the Barley House 6PM. Tonky and the boyz crank out another night of guitar based entertainment David Tonkin styleeee. Randy Roos is known to stop by regularly and we've had a few Tom Robinson sightings lately too. Wine specials and great food make this a night not to be missed.
Monday, May 24th – Scott Solsky Quartet at the Barley House 6PM. I'm the lucky boy who gets to play with the hottest guitar players in Concord, NH! This will be a night os Scott's originals mixed in with some funky stuff and a jazz standard or two. More wine specials and great chow to was down your notes with. Please join us.
Sunday, May 30th – Charlie Jennison, Chris Burbank & Matt Langley with the Ryan Parker Trio at the Press Room 6PM. This is a rare chance for me to play with Charlie Jennison…only the best saxophone player for miles around, that's all – and Chris Burbank, a fine young trumpet player. We'll play some three horn charts with Ryan Parker's Sunday Night at the Press Room trio. Come on in and hear a great night of music…please?!
That's all for now. Thanks for supporting live music. See you soon!