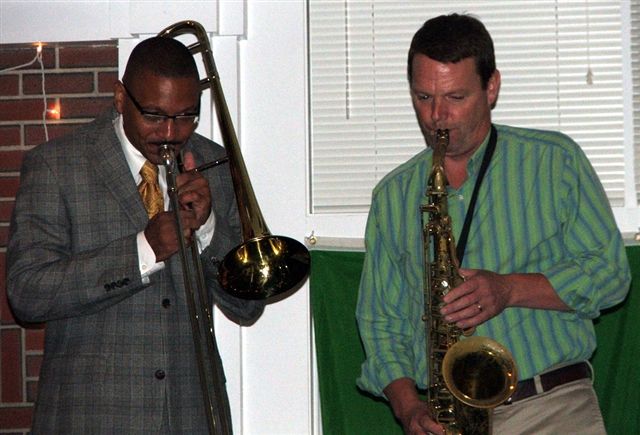 Hey, hey. Thanks for the visit. Just wanted to be sure you were aware of tomorrow's gig at the Press Room. I like to put up a new picture when I put up a new post and I found this one in the files from a performance at New England College. I got a chance to play a duet with Delfeayo and had a blast. He's a great player, educator and performer. He has the crowd on the edge of every note he plays.  Very enjoyable!
Anyway…Sunday, August 30th – Tim Webb Quartet at The Press Room – Tim is a great bass player and improviser and this is a chance to hear him with a unique quartet featuring Tom Snow on piano, Steve Grover on drums and myself on saxomophones.  Tim has selected an excellent variety of standards, originals and not so standard material. Should be a great night of music and, if you're there, the circle will be complete and we'll have a reason communicate through notes and spaces and sounds and stuff! Please join us.
September is just around the corner and I'll be doing some fun stuff with some great musicians. I'll tell you more later but until then I just wanted to say good luck heading back to school all students AND teachers. May the school year present an exciting challenge that raises the creative and spiritual bar for all involved.