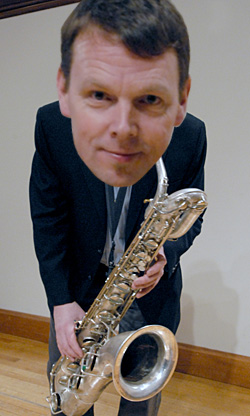 First and foremost, I'm putting the "Big Head Bari" shot back up because I got so many requests to do so. So, there you go. The January thaw was welcome but now we're freezing our butts off again. Here are a few shows you should check out to keep your ears warm and you spirits high!
FRIDAY, January 25th: Jazz in January at Concord Community Music School. The CCMS Jazz Faculty has put a great show together. Sets at 7PM and 9PM. Catering by Hermanos Mexican Cocina. Don't miss it!
SUNDAY, JANUARY 2th: Pandelis Karayorgis Quintet at the Lily Pad. Pandelis is a wonderful pianist and composer and if you have't heard his music you should make this gig. The band includes Pandelis on piano, Jeff Galindo on trombone, Jef Charland on Bass and Luther Gray on drums. The charts alone are a work of art!
SATURDAY, FEBRUARY 2nd: Matt Jenson's Combo Sabroso at the Press Room (check out their swanky new website). This is always a pahhty but it will be a much better paahhhty with YOU there. C'mon down and get down Combo Sabroso styleee.
Also coming in february: Chris Humphrey Group at the NH Allstate Festival. Should be a hoot. Great band, great arrangements and tons of kids pumped on jazz!! Portsmouth Music and Arts Center Jazz Night at the West End Theater in Portsmouth. This is PMAC's firsrt jazz faculty recital and it should be a great one. This is a wonderful faculty; Mike Effenberger, Nate Therrien, Chris Claxton, Chris Weissman, Brian Bergeron-Killough, Jose Duque, Russ Grazier and yours truly. The west end theater is a great spot to hear music too. What's not to LIKE!
Awright, Awright, enuf already…thanks for stopping by. Get out and support live music y'all!