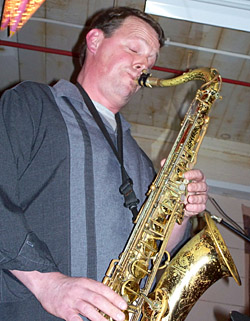 Happy December! '07 is going out in style with some fun holiday gigs you should check out if you're so inclined. This Friday (12/7) join the Avant Coast Orchestrafor Avant Christmas. It promises to be a great take on some holiday favorites with pals Chris Humphrey on vocals, Thom Keith on saxophones, Mike Effenberger on keys of some sort, Jared Steer on drums, Mike Walsh on drums and Jonathan Blakeslee on Bass. Should be some jouyous sound emanating from the mill. You should be there.
Monday the 10th the holiday spirit(s) will travel to Concord, NH and the Barley House where David Tonkin, Don Williams, Tim Gilmore and I will celebrate the final Barley House hang of '07 in fine style. You should be there too.
Wednesday the 12th I get an early Christmas gift; a smoking rhythm section to celebrate life with. Luther Gray and Jef Charland will join me at the Wet Bar in Portmsouth for a night of great music. We got "rained out" on this gig a month ago so we're itching to hit even more!!! You should be there as well.
Sunday the 16th come over to the Stone Church in Newmarket NH for Carrie Coltrane's Soul Town Christmas. Carrie has a great show in store for you featuring the finest musicians in the area. This will selll out quickly so get yer tickets NOW. You should be there!!
That's 'bout it. Oh…If you're up for dumping a ton of money on some incredible food and music this New Years, I'll be up at the White Barn Inn in Kennebunkport with Mark Shilansky, Julie Thompson and Jim Lyden. We'll play all your jazz favorites as well as a few choice pop tunes, etc. Julie's a wonderful singer and Mark can bust out some beautiful vocals as well. This is one of the top restaurants in the nation and we're very fortunate that this is our sixth New Years Eve celebration at the WBI. I think you should be there.