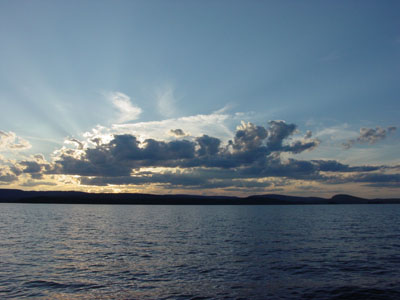 …summer went away. I'm not letting the feeling die though. I'm going to try and keep the – mojitos in the middle of the lake while the sun sets behind the hills of Great Pond with the aroma of fresh mint from the patch by the porch of the camp wafting up from the pitcher and hanging in the air just above the boat as it rocks gently and the warm breeze causes waves to slap againt the transom and time stands completely still – vibe. I'm going to keep the vibe and ride it on into my favorite season of the year.
This fall has some great music in store. Up in Portland the Jan Van Voorst Van Beest trio is creeping up on a almost a steady year of friday nights at the Dogfish Cafe. I've been making the gig for quite some time now too and we're getting a nice book of tunes together and a great sound. We're there every friday night with Jan on Drums, Curtis Clark on Piano and Jim Lyden on bass. C'mon in and have some great food with your sounds. The Quartet will be at Starbird's in Portland on October 22 with the great Oliver Lake. Take a look at the poster here. Take a gander at the press release too. Print out a poster and put it somewhere if you'd like. We'd love to have a great turnout for Oliver!
On september 11th the David Tonkin Group will be over in Concord at the Barley House. There will be plenty of guiness and music for everyone so come over and join us. We'd love to see you. More great stuff coming up in October too…I'm playing with the Cape Cod Pops Orchestra! Thanks to Carrie Coltrane, who referred me for the gig, singer Dee Daniels from British Columbia hired me to fill out the horn section. Check out some of Dee's work at www.deedaniels.com. This is going to be a blast!
Don't miss "Beats Then and Now" Sunday October 1st at the Stone Church in Newmarket. John Grady and Jeff Irwin have busted their asses putting together a night of poetry and music that just might turn into another Seacoast spoken word institution in the tradition of Larry Simon's Beat Nights at the Press Room in Portmouth and the popular JazzMouth festival in Portsmouth but with a twist only the mind of John Grady could come with. The show starts at 7PM.